Tidal¶
Overview¶
TIDAL is a streaming service for lossless CD-quality audio. It is currently available in 61 countries. For up-to-date information on availability, see the Tidal article TIDAL -- where we're available.
TIDAL is integrated into the SHD Series processors. You do not need a special Volumio subscription to use TIDAL with your miniDSP SHD. You will, however, need to have a subscription account with TIDAL.
There are two methods of using TIDAL with the SHD: the Volumio web interface, and TIDAL Connect. You can use either or both.
TIDAL Connect¶
TIDAL Connect enables you to use your phone, tablet or PC to play music from TIDAL through your SHD.
To enable TIDAL Connect, go to the Settings page in the Volumio web interface. Click on the My Music heading and scroll down to Functionality Control. Scroll a little further until you find Tidal Connect and ensure that it is turned on:
If you have not already, install the TIDAL app onto your phone, tablet or computer. To find the download, visit this page: https://offer.tidal.com/download.
In the desktop app on your PC or Mac, click on the Connect icon towards the lower right. The list of available devices will appear. Select the SHD Series processor from the list.
In the mobile app, go to the playing screen and click on the TIDAL connect icon at the top right, then select your SHD Series processor: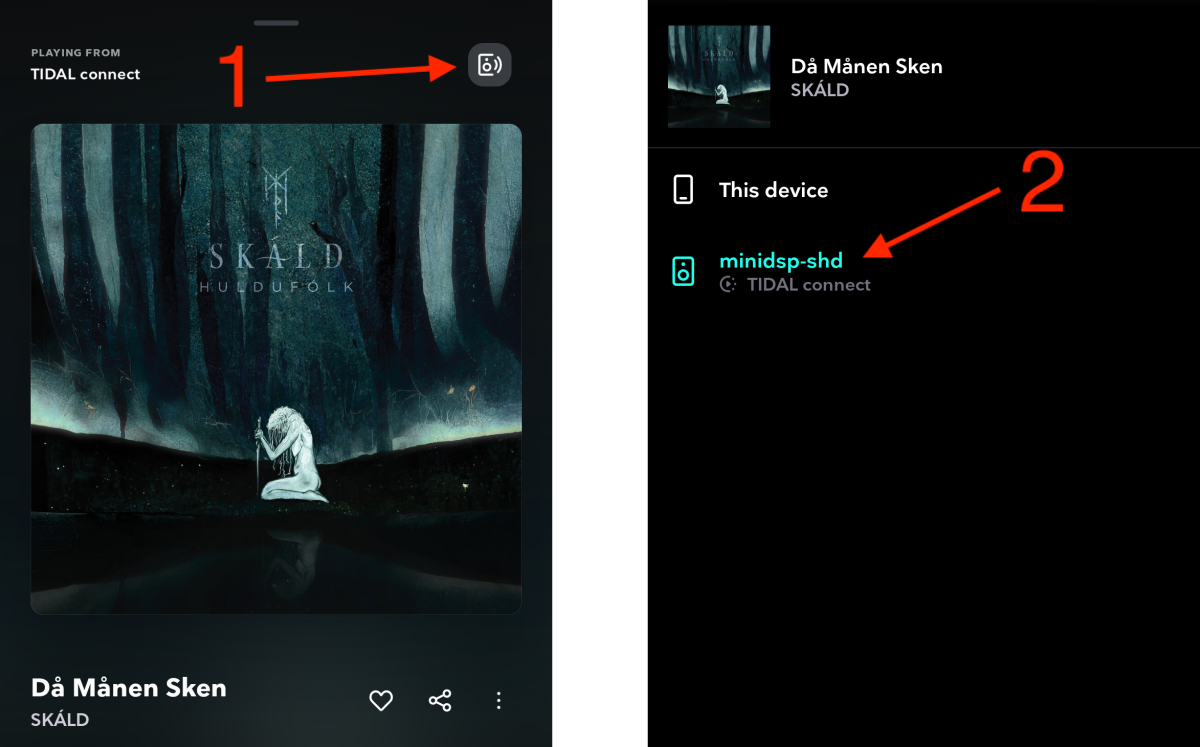 Now, any music that you select for playback through the TIDAL app will play through your SHD!
TIDAL through Volumio interface¶
Go to the Settings page in the Volumio web interface. Click on the My Music heading and scroll down to TIDAL. Click on Connect. You will be directed to the TIDAL website where you can log in:
After logging in, you will be directed back to the Volumio web interface of your SHD. The sidebar menu will display "TIDAL". If you navigate to the Home screen, you will see the TIDAL logo:
Clicking on either will enable you to browse TIDAL and select music to play: