miniDSP Flex¶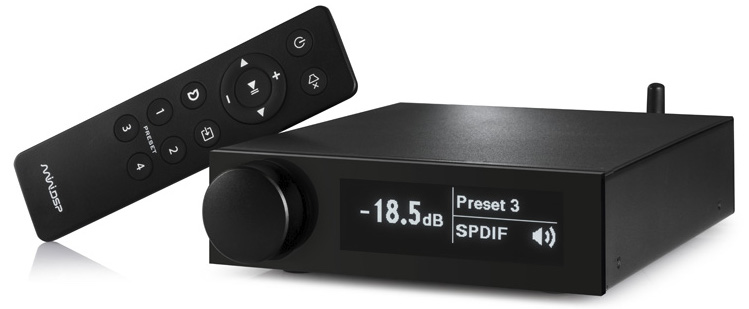 Product Overview¶
The miniDSP Flex is a stereo-input, four-channel output compact high-resolution audio processor. It features stereo analog inputs, two digital inputs, USB audio, Bluetooth streaming with LDAC™ and aptX™ HD codecs and automatic Bluetooth input selection, and an OLED front panel with physical volume control.
The Flex family¶
There are several versions of the 2-in 4-out miniDSP Flex with different I/O configurations. Refer to the Flex product page for the complete list.
Dirac Live upgrade¶
The miniDSP Flex can be upgraded to run stereo (two-channel) Dirac Live® room correction. This requires an additional purchase for the Dirac Live license. You can either purchase the miniDSP Flex with Dirac Live already activated, or purchase the Dirac Live upgrade at a later time from within the Device Console. Refer to the instructions here:
Note that the upgrade applies per device.
Typical applications¶
The miniDSP Flex has a wide range of applications in home and professional audio. This section illustrates a few of them.
Figure 1 shows the miniDSP Flex used as a digital preamp with subwoofer integration. The Flex provides accurate and flexible integration between the subwoofers and the main speakers as well as comprehensive EQ and tuning options. This is a very cost-effective way to build a complete audio system that includes all the benefits of modern DSP technology. Add the optional Dirac Live software upgrade for world-class room correction.
Figure 2 illustrates a similar use of the miniDSP Flex as a digital preamp, but the output channels have instead been configured to act as crossover for a pair of active 2-way speakers. Amplification can be via a multichannel power amplifier as shown, or a pair of stereo amplifiers.
In Figure 3, the miniDSP Flex has been used as an accessory in a home theater system, to manage multiple subwoofers. Driven from the A/V receiver's subwoofer output, the miniDSP Flex can be used to independently adjust gain, delay and parametric EQ of each subwoofer for optimum multi-sub performance.