WiSA Audio¶
Overview¶
The optional WiSA (Wireless Speaker and Audio Association) transmitter upgrade wirelessly sends all eight processed output channels to WiSA-compatible wireless speakers and subwoofers. The analog outputs are simultaneously active.
Info
The WiSA transmitter is an optional hardware upgrade that can be added to the miniDSP Flex HT at time of initial purchase only. For logistical and manufacturing reasons, it can not be added later to units that were purchased without it.
Note: The WiSA transmitter is not available for purchase yet as we are currently proceeding through the WiSA certification process. We will update the Flex HT store page to enable the optional WiSA upgrade as soon as certification is finalized.
If your Flex HT has the WiSA hardware module, enable it at the top of the WiSA tab. This screenshot shows a typical example after two speakers have been paired:
Pairing WiSA speakers¶
Put one or more of your WiSA speakers into pairing mode. How this is done depends on the specifics of your speakers (refer to your user manual), but typically pairing mode is activated by pressing a Pairing button for a few seconds, then releasing it.
In Device Console, click the SCAN AGAIN button. After a period of time, the settings panel will change to show the detected speakers. By default, all speakers will be assigned to output channel 1.
Assigning output channels¶
To check which actual speaker corresponds to the speaker in the WiSA panel, set the WiSA Trim to a low value and click on the START button for the first speaker. The speaker will start generating a test tone. If you don't hear it, increase the WiSA Trim gradually.
When you have figured out which speaker it is, click STOP. Use the dropdown menu to assign
the speaker to the correct output channel: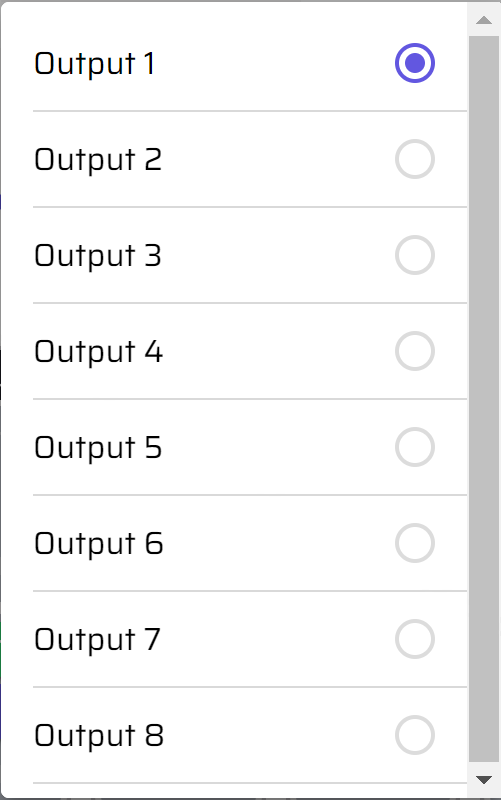 Now, any audio played to the selected output channel will be sent to the WiSA speaker, as well as being present on the analog audio outputs. Repeat this for the rest of the speakers.
Add another WiSA speaker¶
To add a new speaker, first put it into pairing mode. Then click on the ADD NEW button. After a short time the list will update to include the new speaker. Use the test tone buttons to identify it and the dropdown menu to assign it to the correct output channel.
Remove a WiSA speaker¶
To remove a speaker, click on the circled "X" button next to its name. The speaker should return to pairing mode. (Speakers will typically time out of pairing mode after a short while.)
Remove all WiSA speakers¶
To remove all speakers, click on the REMOVE ALL button. All speakers will be removed from the list. All speakers should now be in pairing mode. (Speakers will typically time out of pairing mode after a short while.)
Refresh the speaker list¶
If the displayed speaker list doesn't match what you think the connected speakers should be, click the Refresh List button.